This Is Just the Beginning
CurationIQ is proud to announce our latest milestone: Our content library just exceeded 10,000 assets! This means more resources covering a wider array of content for you, the content developer. Maybe you are searching for a multicultural picture book to enhance a kindergarten curriculum. Perhaps you are looking for a high-school-level text that explains the impact of smallpox on Colonial America. Our collection of licensable content has both, as well as everything in between—and we are ready to share it all with you.
Where CurationIQ Started
Finding quality content that is permissible for use has long been a daunting task. We recognized the magnitude of that task and set out to remove the barriers to ensure the content discovery process is as smooth as possible. Thus, our content library was born. What started as a handful of assets from a few adventurous publisher partners has grown into a collection of more than 10,000 assets!
Where CurationIQ is Today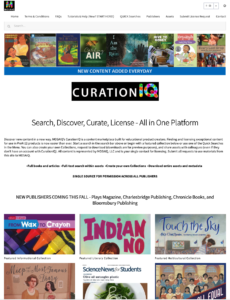 We continue work to build relationships with high-quality media and publishing companies. We added Macmillan Children's Publishing Group and Charlesbridge Publishing last week and look forward to receiving content soon from Chronicle Books and Bloomsbury Publishing. Our content library helps educational developers find and license content painlessly and in turn, allows educational publishers to go-to-market quicker. In the metadata of each of our assets, you'll find information about the asset's rights availability. That means there's no guessing game to play about permissibility for use. Today, the CurationIQ library is comprised of more than 30 different content partners.
Where CurationIQ is Going
Our content library continues to grow each day. Our vision remains the same: ease the process for content developers to provide high-quality materials to students. We continue to strengthen our relationships with existing publishers and foster relationships with new ones. We are strongly focused on growing the volume and range of content for the upper grades as requested by our users.
We are thrilled with the growth of our content library since just April 2018. While our extensive—and growing— library is impressive, we still have more milestones in our sights. More importantly, we want to continue to find new ways to help content developers get quality content into the hands of students.
To learn more about CurationIQ or to take a quick look at our more than 10,000 asset library, go to www.curationiq.com.